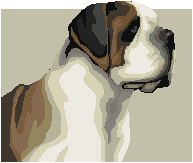 The Saint Bernard Clubs of
Greater Wisconsin
promote the ownership of
purebred Saint Bernards.
Midwest Double Header!
Four Shows, No Sweepstakes this year,
Two Days, One Location

Friday, April 6, 2018
Afternoon ~3 P.M. and Evening ~5:30 P.M.
&
Saturday, April 7, 2018
Morning ~9 A.M. and Afternoon ~11 A.M.

Cudahy Kennel Club
St. Francis Training Center
3820 South Pennsylvania Ave.
St. Francis, WI 53235

Indoor - Unbenched
Licensed by the American Kennel Club
NOTE: There has been a change in the Judge for the Northen Illinois St. Bernard Club Specialty #1 from Sandy Lane to Bob Sykora.

Click Here to download the original Premium Lists (PDF)
Click Here to download the Judging Program (PDF)

Entries Closed Wednesday, March 21, 2018
at 5:00 P.M. at the office of the Show Secretary
Penny Janz
S52W33400 Red Fox Way
No. Prairie, WI 53153
Entries cannot be accepted, altered, or substituted
except as provided by Chapter 11, Section 6 of the Dog Show Rules.
Wisconsin's clubs offer club meetings and educational events for all Saint owners. Each club is recognized and supported by their parent club, the St. Bernard Club of America (SBCA). Some of our club members are also SBCA members.
Each club supports the Rescue of St. Bernards and handles referrals for the St. Bernard Rescue Foundation. The clubs have volunteer members who work with Rescue.
Most members have show quality St. Bernards and exhibit them around the country at American Kennel Club (AKC) events. Those members with pet St. Bernards love them dearly.
To join one or more of the Greater Wisconsin Saint Bernard Clubs, you don't need to own a Saint; you just need to love the breed. You may contact a club's Secretary for more information by using the Membership button above on the left.
If you want to know more about St. Bernards - Owning, Showing, Breeding, Rescuing - this is the right place.